CFN (Commercial Fueling Network) is an international fueling network
with locations throughout the United States and Canada.
CFN is committed to being the undisputed Information Technology Products and Services leader
in the Transportation-Related Industry.
Fleet operators and customers that access our system
24 hours a day,
365 days of the year
can expect quality products and exceptional fuel management.
---
Your FleetWide card is accepted at over 55,000 locations
including the following brands: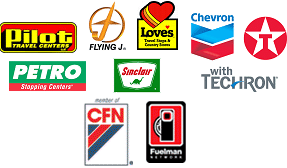 ---
Things you can count on when fueling with CFN:
♦
You can account for every penny.
Whether you use monthly reports by mail – or access detailed information via the internet as it posts your account – you'll know how and where company money was spent. You can restrict what fuel is used, limit the number of transactions, limit the number of gallons per transaction, set what time of day and week the card is valid, even limit what state or country the card can be used in!
♦ You save time.
Instead of juggling multiple cards and reconciling a variety of credit card slips, cash receipts and house account invoices, you'll enjoy the convenience of a single vehicle purchasing card and one, easy-to-read monthly invoice. With real-time internet access to your account information, you can easily make account updates right from your desktop.
♦ You get security.
Using CFN, you can choose to have each driver carry a Single Card, use our Two Card System, or optimize security with the Floating Pin System. Concerned about a particular driver? CFN's CardWatch will e-mail you everytime the specified card is used! With CFN real time internet access, you don't need to wait until the end of the month to find out about questionable activity, it is all at your fingertips 24 hours a day!
♦ You get Detailed Billing.
Our billing has advanced features for each purchase like card description, date, time, location, miles per gallon, odometer, product type, gallon amount, price per gallon, and total purchase amount for each transaction. Combine detailed billing with our 24 hour internet access and you get unparalleled security and fleet management.
♦ You save money.
The time tested truth is that moving from conventional purchasing practices to the CFN program, our customers see, on average, a 15% drop in their fleet management costs as well as saving administrative time! Plus, at CFN we reward your increasing business with volume discounts, so as your fleet grows you save!
♦ You get coverage.
CFN offers expanded coverage throughout the United States and Canada. Click here to find the 10 Closest CFN sites.
When you carry the CFN Fleet Card, we offer you the latest technology available today to manage your bottom line. Whether by account or card, we are here to ensure you receive the full benefit of fuel management. We have made very effort to develop a program that brings real benefits to our customers. So go ahead, snoop around, we know that you'll find that the CFN Fleet Card Program can work for you too.
---
Contact Us
Call us at 1-800-401-2201
Local: (360) 734-2201
Fax: (360) 676-4529
3715 Irongate Road
Bellingham, WA 98226
When inquiring about a price quote, please have the information regarding your city, state, date for quote, current fuel volume and fuel type ready. Thank you.
CFNdesk.com is committed to service excellence, we pride ourselves in unmatched customer service and work hard to make fueling with us as hassle free and as user friendly as possible. We prefer to take the honest approach, and we think you will enjoy our staff and services.
---
Benefits
Find out what Fleet Management Professionals are saying about the benefits of switching to a Managed Fuel Program like CFN! Click on the article buttons below to view in Adobe Reader.
Fleets of Any Size Can Benefit
"A complete analysis of your fleet's current fueling requirements compared to your procedures now can be an eye opener. Fleets that 'have' switched are realizing savings of 15 percent on their fuel operating expenses."
Advantages of Managed Fuel
"Automotive Fleet presents figures showing that the larger fleets have seen the light and put their fleet vehicle fuel purchases and mileage monitoring under the fuel management umbrella."
Learn More About CFNdesk